Updated By: LatestGKGS Desk
Google Doodle Celebrates 30th Anniversary of World Wide Web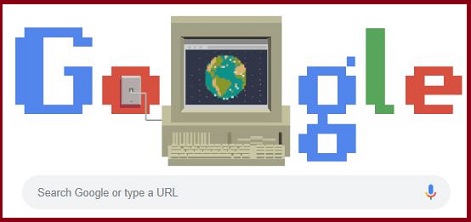 Google Doodle Celebrates 30th Anniversary of World Wide Web: Details, Significance, History
Today on 12th March 2019, Search engine giant Google is celebrating the 30th anniversary of the World Wide Web (www) commonly known as the Web with a colorful doodle.
Today Google doodle has featured the animation showing block graphics of an old version of a computer showing the picture of 'World Wide Web' logo.
The World Wide Web was invented by Timothy Berners Lee in 1989 at European Organization for Nuclear Research (CERN) in Geneva, Switzerland.
The World Wide Web is a way of exchanging information between computers on the Internet, tying them together into a vast collection of interactive multimedia resources.
These resources are identified by Uniform Resource Locators (URLs, such as https://www.example.com/), which may be interlinked by hypertext, and are accessible via the Internet.
The resources of the WWW may be accessed by users via a software application called a web browser like Google Chrome, Internet Explorer, Firefox, Opera etc.
Internet and Web is not the same thing: the Web uses the internet to pass over the information.
Latest Google Doodle Updates