World Sleep Day Celebrations On 15th March 2019 Theme, Details, Aim, Significance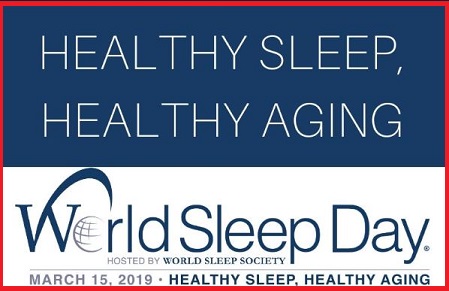 World Sleep Day Celebrations On 15th March 2019 Theme, Details, Aim, Significance
World Sleep Day is an annual event celebrated every year on the Friday before Spring Vernal Equinox.
This year, World Sleep Day 2019 is observed on 15th March (Friday).
World Sleep Day 2019 theme is, 'Healthy Sleep, Healthy Aging,' intended to emphasize the importance of sleep in overall health at any age.
World Sleep Day focusses on important issues related to sleep, including medicine, education, the social aspect, and driving. It also aims to lessen the burden of sleep problems on society through better prevention and management of sleep disorders.
World Sleep Day is organized by the World Sleep Day Committee of the World Association of Sleep Medicine (WASM) since the year 2008.
Elements of Quality Sleep
1. Duration- The length of sleep should be sufficient for the sleeper to be rested and alert the following day.
2. Continuity- Sleep cycles should be seamless without interruption.
3. Depth- Sleep should be deep enough or sufficiently sound to be restorative and refreshing.