Updated By: LatestGKGS Desk
Indian peacekeepers granted Medal of Honor under UNMISS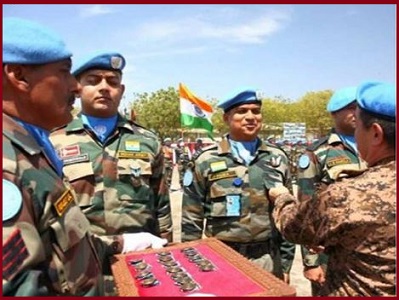 Indian peacekeepers granted Medal of Honor under UNMISS: Details, Achievements, Highlights
The UN Mission in South Sudan (UNMISS) awarded 150 Indian peacekeepers with Medals of Honour for serving the mission with extreme dedication and sacrifice in Malakal, South Sudan.
Colonel Amit Gupta who commands a battalion of 850 soldiers in the Upper Nile region, South Sudan was 1 among the recipients of the Medal of Honour.
Under Colonel Amit Gupta's command, Indian peacekeepers conducted veterinary camps and run a veterinary hospital in Malakal, South Sudan.
India Contributions towards peacekeeping missions of the United Nations
India is at present, the 2nd largest contributor of peacekeepers to UNMISS with more than 2,400 military and police personnel deployed as peacekeepers under the UNMISS.
Since India's independence, more than 2 lakh Indian military and police personnel have served under UN flag and 168 soldiers have sacrificed their lives while at the UN service.
India also contributes to the United Nations Peacebuilding Fund.
UN Peacekeepers
UN peacekeepers' prime objective of work is to reduce violence against civilians by offering a secure atmosphere for the South Sudanese people who have fled violence and sought refuge at Protection of Civilian sites.
UNMISS also helps to enhance the safe and secure delivery of humanitarian aid, namely, food, water, shelter and healthcare to the refugees and also investigates and reports cases on human rights violence with a major focus on women and children who are prone to gender-based violence.
Under this mission, the Indian Horizontal Mobility Engineering Company had completed renovation of 145 km of roadway. This pathway connects Bentiu and Leer in South Sudan thus paves an easier way for the delivery of humanitarian assistance and other needs.