Cricketer Kuldeep Yadav Profile, ICC Sports Career, Awards, Achievements, Records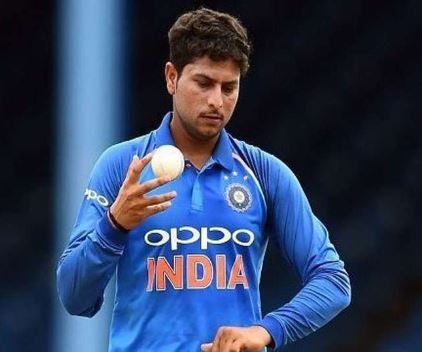 Cricketer Kuldeep Yadav Profile, ICC Sports Career, Awards, Achievements, Records
Kuldeep Yadav also called as 'Kuli' is an International Indian cricketer who plays for the Indian cricket national team and domestic cricket for his state Uttar Pradesh.
Kuldeep Yadav is a Left-Arm Chinaman Bowler and a lower order Left-Handed Batsman (Tailender).
Kuldeep Yadav has also represented India in the 2014 ICC Under-19 Cricket World Cup and took a hat-trick against Scotland & came into the limelight.
Kuldeep Yadav also plays in the Indian Premier League (IPL) for Mumbai Indians in 2012 and for Kolkata Knight Riders (KKR) since 13th April 2013 as a Leg-Arm Chinaman Bowler
Kuldeep Yadav was born on 14th December 1994 (24-years-old) who hails from Kanpur, Uttar Pradesh, India.
Kuldeep Yadav till date has played 6 Test matches, 44 One Day Internationals (ODIs) and 18 Twenty-Twenty (T20Is) matches for Indian national team.
Kuldeep Yadav as a bowler so far has taken 25 Test wickets, 87 ODIs wickets, 36 T20Is wickets and 45 wickets in IPL.
Kuldeep Yadav made his Test debut vs Australia on 25th March 2017; ODIs debut vs West Indies on 23rd June 2017 and T20Is debut vs West Indies on 9th July 2017.
Kuldeep Yadav along with Yuzvendra Chahal together forms a best-bowler dual for India and called as 'Kul-Cha'.
Kuldeep Yadav is only the second Indian other than Bhuvneshwar Kumar and the third spinner other than Imran Tahir and Ajantha Mendis to take 5-wickets in all three formats of cricket.
Recently, on 15th April 2019, Kuldeep Yadav was selected in India's squad for the 2019 Cricket World Cup.