Cricketer Jasprit Bumrah Profile, ICC Sports Career, Awards, Achievements, Records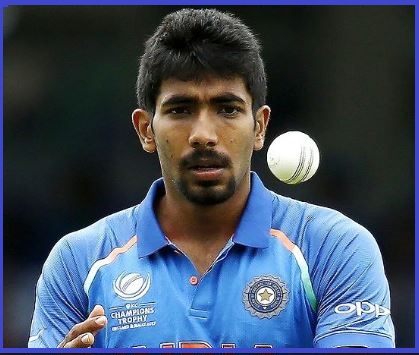 Cricketer Jasprit Bumrah Profile, ICC Sports Career, Awards, Achievements, Records
Jasprit Bumrah full name as 'Jasprit Jasbirsingh Bumrah' is an International Indian cricketer who plays for the Indian cricket national team in all formats and domestic cricket for his state Gujarat.
Jasprit Bumrah is a Right-Arm-Fast Medium Bowler and a lower order Right-Handed Batsman (Tailender).
Jasprit Bumrah bowls at an average speed of 140–145 km per hour (87–90 mph) making him one of the fastest bowlers in India. He also has a special ability to consistently bowl in-swinging & yorker deliveries.
Jasprit Bumrah is also apart of India A, India Green, West Zone, Mumbai Indians, Gujarat, India Under-23 squads.
Jasprit Bumrah also plays in the Indian Premier League (IPL) for Mumbai Indians since 2013 as a Fast-Medium Bowler.
Jasprit Bumrah was born on 6th December 1993 (25-years-old) who hails from Ahmedabad, Gujarat, India.
Jasprit Bumrah till date has played 10 Test matches, 49 One Day Internationals (ODIs) and 42 Twenty-Twenty (T20Is) matches for Indian national team.
Jasprit Bumrah as a bowler so far has taken 49 Test wickets, 85 ODIs wickets, 52 T20Is wickets and 80 wickets in IPL.
Jasprit Bumrah made his Test debut on 5th January 2018 vs South Africa; ODIs debut on 23rd January 2016 vs Australia and T20Is debut on 26th January 2016 vs Australia.
Recently, on 15th April 2019, Jasprit Bumrah was selected in India's squad for the 2019 Cricket World Cup.