Updated By: LatestGKGS Desk
GK Questions 14th May 2019 General Knowledge, Current Affairs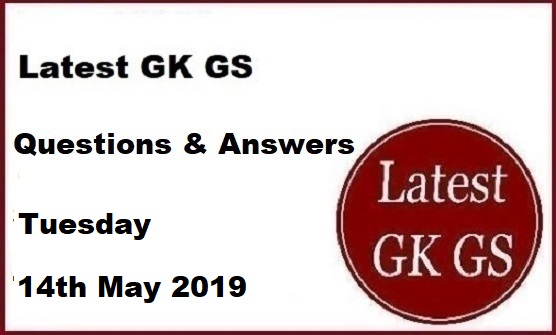 Daily GK Questions 14th May 2019 General Knowledge, Current Affairs
1. Which team has won IPL 2019 title?
Ans:- Mumbai Indians (MI)
2. Which Indian city is hosting the two-day WTO ministerial meeting??
Ans:- New Delhi

3. The International Monetary Fund has agreed to bail out which cash-strapped nation with $6 billion worth fund?
Ans:- Pakistan

4. The ISIS has announced the establishment of a new province in which among the following Indian states?
Ans:- Jammu and Kashmir

5. What is the name of Kerala's largest temple festival, which began on May 12, 2019?
Ans:- Thrissur Pooran
6. Which nation has blocked social media platforms after the attack on mosques?
Ans:- Sri Lanka

7. Who won the Madrid Tennis Open title 2019?
Ans:- Novak Djokovic (Serbia)

8. Rain-loving snake species 'Smithophis Atemporalis' was discovered in which Indian state?
Ans:- Mizoram

9. Who won Spanish Grand Prix 2019?
Ans:- Lewis Hamilton

10. What is the name of the famous folk singer who was also known as 'Birha Samrat' recently passed away?
Ans:- Hiralal Yadav