Updated By: LatestGKGS Desk
GK Questions 12th May 2019 General Knowledge, Current Affairs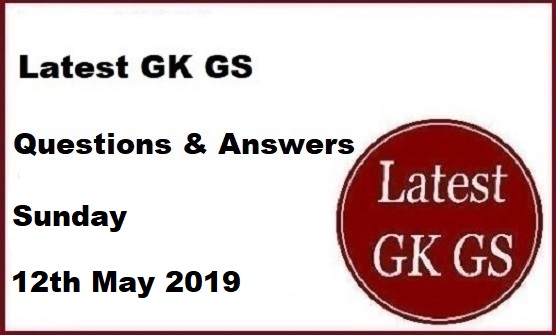 Daily GK Questions 12th May 2019 General Knowledge, Current Affairs
1. When is the Mother's Day 2019 celebrated?
Ans:- 12th May 2019
2. IAF formally gets which first helicopter from the United States in May 2019?
Ans:- AH-64E (I) Apache Guardian Helicopter

3. United Nations appointed whom as new 'SDG Advocates'?
Ans:- Bollywood Actress Dia Mirza & Alibaba's Jack Ma
4. What is the name of new species of Pit Viper found in Itanagar, Arunachal Pradesh?
Ans:- Trimeresurus arunachalensis

5. What is the name of the microprocessor that IIT Bombay developed?
Ans:- 'AJIT' Microprocessor
6. Which electronic company launched the world's Highest Resolution Image Sensor?
Ans:- Samsung

7. Where did Indian Navy undertake group sail exercise with Japan, Philippines, and the US?
Ans:- South China Sea

8. Which Indian airport ranked among top 10 in the World-Survey by Air Help?
Ans:- Hyderabad's Rajiv Gandhi International Airport

9. India gets its first ever ice cafe at which place?
Ans:- Gaya Village, Ladakh (14,000 feet)

10. When did 2019 Lok Sabha Elections Phase VI for 59 constituencies, spread over six states begins?
Ans:- 12th May 2019