Updated By: LatestGKGS Desk
GK Questions 16th May 2019 General Knowledge, Current Affairs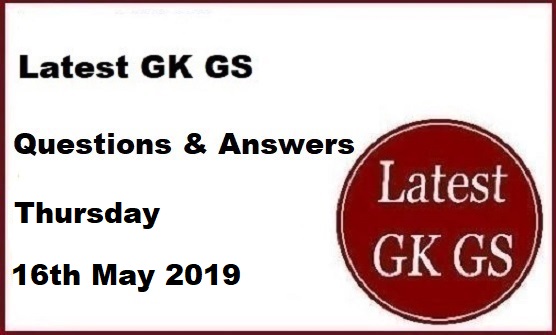 Daily GK Questions 16th May 2019 General Knowledge, Current Affairs
1. Kailash Manasarovar Yatra will begin by which date?
Ans:- 8th June 2019
2. Which social media app got affected By 'Targeted' Spyware Attack?
Ans:- WhatsApp
3. Which institution directed 18 states, 2 UTs to submit an action plan on the utilization of treated wastewater?
Ans:- NGT

3. Which Department launched the MANAV: Human Atlas Initiative??
Ans:- Department of Biotechnology (DBT)

4. Which city recently declared environmental emergency after the City's air quality sharply worsened as a result of a series of wildfires?
Ans:-Mexico City

5. Who has been appointed as Yes Bank's Additional Director by RBI?
Ans:- R Gandhi
6. Which car manufacturing company has announced to abandon combustion engines by 2039?
Ans:- Mercedez Benz

7. The United Nations recently imposed sanctions on which terror group?
Ans:- ISIS-Khorasan

8. Who won the Women's Singles Title in Madrid Open tennis?
Ans:- Kiki Bertens

9. A species of which snake has discovered in the eastern part of Odisha recently?
Ans:- Vine

10. What is the name of India's first woman female ICC match referee?
Ans:- GS Lakshmi