Updated By: LatestGKGS Desk
GK Questions 15th May 2019 General Knowledge, Current Affairs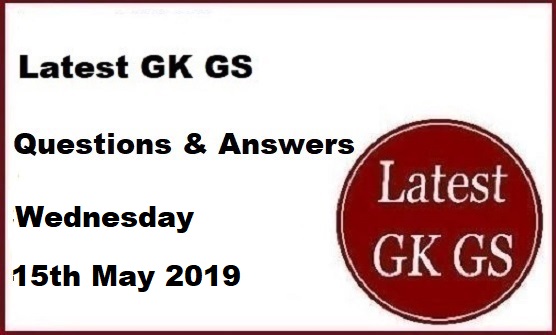 Daily GK Questions 15th May 2019 General Knowledge, Current Affairs
1. When is the International Day of Families celebrated every year?
Ans:- 15th May
2. Which team was a runner-up in IPL 2019?
Ans:- Chennai Super Kings (CSK)
3. Which aerial vehicle was flight tested successfully by DRDO?
Ans:- ABHYAS

3. Which Department launched the MANAV: Human Atlas Initiative??
Ans:- Department of Biotechnology (DBT)

4. Which among the following retired Supreme Court judges has been appointed to the Supreme Court of Fiji?
Ans:-Madan Bhimrao Lokur

5. Central Government of India has extended the ban imposed on which among the following militant organizations??
Ans:- Liberation Tigers of Tamil Eelam (LTTE)
6. Which country has decided to mobilize its military in the fight against African swine fever?
Ans:- Vietnam

7. Which nation is hosting Dialogue of Asian Civilizations from 15th to 22nd May 2019?
Ans:- China

8. NASA to dub its 2024 Mission to Moon by what name?
Ans:- Artemis

9. Recently, Paytm has collaborated with which bak to launch its 1st credit card called 'Paytm First Card'?
Ans:- Citibank

10. What is the name of India's first woman female ICC match referee?
Ans:- GS Lakshmi