Dutee Chand clinches Gold Medal in 100m race in World Universiade in Italy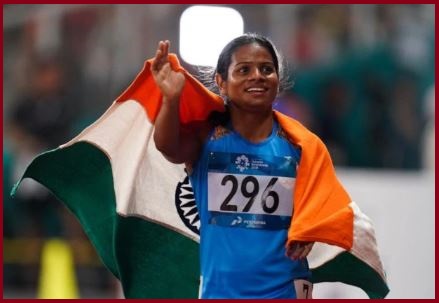 Dutee Chand clinches Gold in 100m race in World Universiade in Italy
India's sprinter Dutee Chand has clinched a Gold medal in women's 100m in World Universiade, 30th Summer University Games held in Naples, Italy.
Dutee Chand (23-year-old) Indian athlete clocked 11.32 seconds to win gold as she led the race from start to finish. With this win, she became the 1st Indian woman to do so.
Dutee Chand became 1st Indian woman track and field athlete to clinch a gold medal in World Universiade after winning this 100m dash event held in Napoli, Italy.
Dutee Chand is a student at Kalinga Institute of Industrial Technology, a deemed university in Bhubaneswar in Odisha. Her 100m national record stands at 11.24 seconds.
Dutee Chand became the first Indian to win a 100m gold in a global event.
Dutee Chand has now become only 2nd Indian sprinter to win gold in a global event after Hima Das. Das won the top spot in 400m in World Junior Athletics Championships in 2018.
Dutee Chand won silver each in 100m and 200m in 2018 Asian Games.
Dutee Chand is yet to qualify for World Championships to be held in Doha in September-October 2019.
Dutee Chand is also one of few athletes in the world to openly admit being in a same-sex relationship in May 2019.
Other Winners In The Event
Del Ponte (11.33 seconds) of Switzerland won silver
Lisa KwaYie (11.39 seconds) of Germany won bronze