Updated By: LatestGKGS Desk
Encephalitis 'Chamki Bukhar' Types, Symptoms, Causes, Prevention, Treatment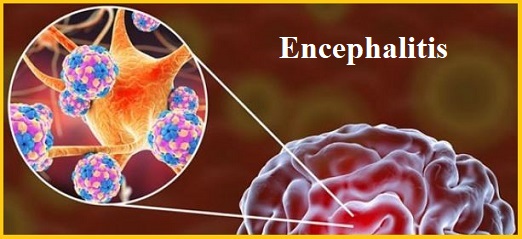 Encephalitis 'Chamki Bukhar' Types, Symptoms, Causes, Prevention, Treatment
Recently in Bihar, more than 100 children have lost their lives due to Acute Encephalitis Syndrome (AES) and heat wave commonly called as 'Chamki Bhukhar' in the local language.
The total toll due to AES has been counted at 104 including 17 deaths in Muzaffarpur.
The toxic substance in lychee causes Acute Encephalitis Syndrome (AES), locally known as Chamki Bukhar, is a form of brain fever that happens due to the inflammation of the brain.
Doctors believe that lychee toxins are particularly harmful when consumed on an empty stomach. Methylene cyclopropyl-glycine (MCPG) a chemical found in this fruit affects the brain when body sugar levels are low due to undernourishment.
Encephalitis Types
Japanese encephalitis virus (JEV) is the major cause of AES in India
Encephalitis Symptoms
Encephalitis symptoms include High fever, Headache, Sensitivity to light, Stiff neck and back, Vomiting, Confusion and if a case is severe - seizures, paralysis, and coma.
Encephalitis Prevention
Encephalitis disease can be avoided by getting infected with viruses or other germs that can cause it. Regular hand washing will help limit the spread of some of these germs.
Encephalitis Treatment
Encephalitis patient should be kept in the Intensive Care Unit (ICU) and can be treated by anti-inflammatory drugs,
Most cases of encephalitis get resolved in a few days. In case of a severe condition, it may take a few weeks.