Updated By: LatestGKGS Desk
Geoffrey Chaucer: About, Details, History, Early life,Works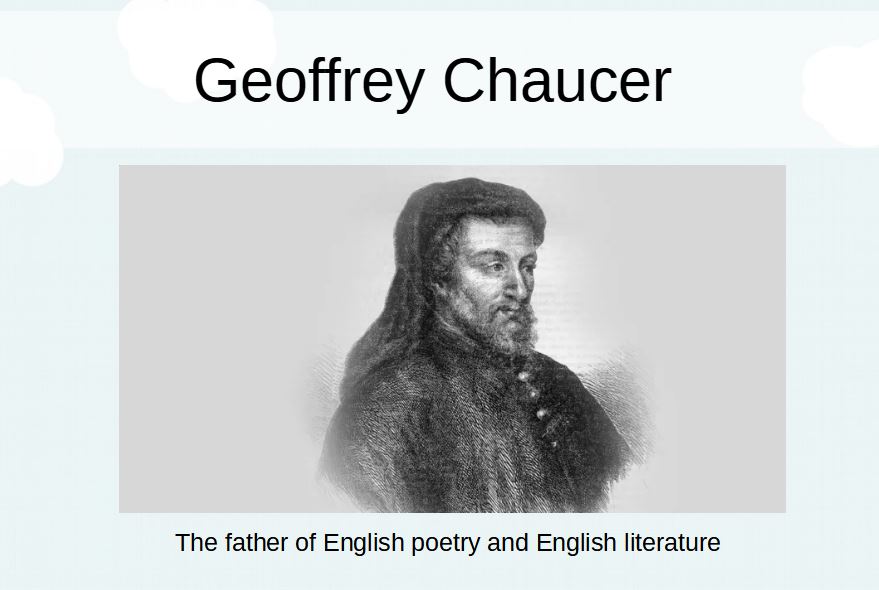 Geoffrey Chaucer - The father of English poetry and English literature: About, Early life, Achievement,His works
Geoffrey Chaucer was born c. 1342/43 in London, England and died on October 25, 1400 in London. His The Canterbury Tales is considered one of the best masterpieces of poetry ever written in English.
Geoffrey Chaucer was a poet and author from England. He is well known for The Canterbury Tales, and is widely regarded as the greatest English poet of the Middle Ages. He has been referred to as the "Father of English Literature" or "Father of English Poetry."
His The Canterbury Tales is considered one of the greatest pieces of poetry ever written in English. As a courtier, diplomat, and civil official in the second half of the 14th century, he made significant contributions to the management of public affairs. Three successive kings, Edward III, Richard II, and Henry IV, trusted and aided him throughout his career. But it is for his avocation—poetry writing—that he is remembered.
The range of subject matter, genre, tone, and style in Chaucer's works, as well as the complexity addressed concerning the human desire of a reasonable existence, are perhaps the works' most distinguishing features. His writings, on the other hand, are characterised by an all-pervasive humour, as well as a serious and tolerant study of fundamental philosophical issues. Chaucer emerges from his writings as a poet of worldly and divine love, whose depictions span from lusty cuckoldry to spiritual union with God. As a result, they frequently encourage the reader to ponder man's relationship to his fellow man and to his Creator, while also giving fabulously humorous views of mankind's frailties and foibles, as well as its nobility.
Early years and forefathers
For at least four generations, Chaucer's forefathers were middle-class English citizens with a growing tie to London and the court. His father, John Chaucer, was a prominent London vintner and the butler's deputy; he was a member of Edward III's expedition to Antwerp, in Flanders, now part of Belgium, in 1338, and he had property in Ipswich, Suffolk, and London. At the age of 53, he died in 1366 or 1367. Chaucer's name comes from the French word chaussier, which means "shoemaker." Wine and leather were key to the family's financial success.
Although Chaucer's birth date is usually given as c. 1340, 1342 or 1343 is probably a better guess. There is no evidence about his early education, though he was almost certainly as fluent in French as he was in Middle English at the time. He also improved his Latin and Italian skills. His writings reveal that he was well-versed in a wide range of notable publications from his time and prior periods.
His works and His early life
Early writing by Chaucer was significantly influenced by French love poetry, such as the Romaunt of the Rose (c. 1370) and Saint Cecilia (c. 1373), which was later utilised as the "Second Nun's Tale" in the Canterbury Tales.
In 1374, Chaucer was appointed Controller of Customs on wools, skins, and hides for the port of London, a position he held for the next twelve years. Around this time, Chaucer's period of Italian influence began, with works like Anelida and Arcite (c. 1379), Parlement of Foules (c. 1382), and Troilus and Criseyde (c. 1383). (c. 1385). In 1386, Chaucer moved to Kent, where he was chosen as a justice of the peace and a member of Parliament. The following year, his wife passed away.
The creation of the General Prologue of the Canterbury Tales, which Chaucer continued to work on for many years—most likely until his death in 1400—is considered to signal the beginning of his age of artistic maturity. Chaucer's tales assemble twenty-nine archetypes of late-medieval English society and present them with insight and comedy, making them a cultural touchstone, if not the very source of writing in the English language.
Chaucer, who is now known as the "Father of English Literature," wrote in the English vernacular during a time when court poetry was still produced in Anglo-Norman or Latin. The decasyllabic couplet used by Chaucer for the majority of the Canterbury Tales later evolved into the heroic couplet, which is now widely utilised in English epic and narrative poetry. Chaucer is also acknowledged with being the first to use iambic pentameter on a regular basis.
"...the rich poets, such as Homer, Chaucer, Shakespeare, and Raphael, have obviously no limits to their works, except the limits of their lifetime, and resemble a mirror carried through the street, ready to render an image of every created thing," wrote American poet and essayist Ralph Waldo Emerson in his essay "The Poet" in 1844.