Updated By: LatestGKGS Desk
Jammu And Kashmir has 5 Official Languages Hindi, English, Urdu, Kashmiri, Dogri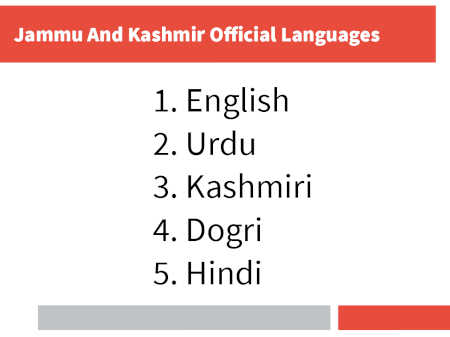 Kashmiri, Dogri, Hindi joins English and Urdu becoming 5 Official languages of Jammu and Kashmir
Cabinet Minister Jitendra Singh announced the inclusion of Kashmiri, Dogri, and Hindi as the official language of Jammu and Kashmir today on 23rd September 2020. English and Urdu already state official languages.
According to Cabinet Minister Jitendra Singh, the inclusion of three languages for the state official language group fulfill the majority of people's rights os expression in the native language they are local and comfortable.
According to the data about language speaking people from Jammu and Kashmir near about 1% of people use English or Urdu in local talk.
In Jammu and Kashmir, Kashmiri has a stake of 50.3%, Dogari language comes in second place with 20.6% value.
According to Dr.Jitendra Singh, this was a 70 years old anomaly in the state constitution about official languages which is now got corrected.
Latest Jammu And Kashmir Updates