Gokulam Kerala defeats Mohun Bagan to win Durand Cup 2019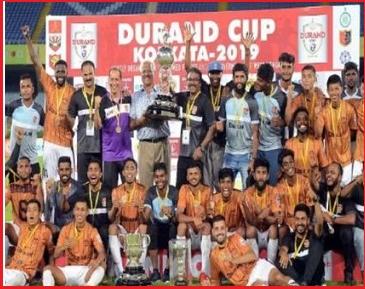 Gokulam Kerala defeats Mohun Bagan to win Durand Cup 2019: Achievements, Award

Gokulam Kerala FC won Durand Cup 2019 football tournament by beating Mohun Bagan in final held at Salt Lake Stadium in Kolkata.
Durand Cup 2019 was 129th edition of Durand Cup.
Gokulam Kerala FC beat Mohun Bagan with 2-1 as captain Marcus Joseph scored a goal in each half to lead his side to Durand Cup glory. This was Gokulam Kerala FC's debut season.
With this achievement, the Gokulam Kerala FC becomes 2nd club from Kerala to win the crown after 22 years. In 1997, the I.M. Vijayan-led FC Kochin was 1st Kerela club to claim the title.
Marcus Joseph scored his 10th and 11th goal of the tournament to help Gokulam Kerala FC win.
2019 Durand Cup's Awards
Golden Ball & Golden Boot awards won by Gokulam Kerala FC forward Marcus Joseph.
Golden Glove: Gokulam Kerala FC's goalkeeper CK Ubaid
Durand Cup
Durand Cup or Durand Football Tournament is a football competition in India. It was founded in 1888 (131 years ago).
Durand Cup is Asia's oldest football tournament and 3rd oldest football tournament in the world.
Durand Cup is co-hosted by Durand Football Tournament Society (DFTS) and Osians.