Ministry of Culture: 9th Rashtriya Sanskriti Mahotsav Inaugurated in Uttarakhand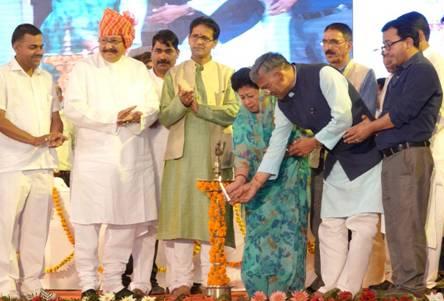 Ministry of Culture: 9th Edition Of Rashtriya Sanskriti Mahotsav Inaugurated On 25th May in Tehri, Uttarakhand- Details, Aim, Purpose, Background
In a bid to promote India's rich cultural Heritage, Ministry of Culture has organised the 9th edition of 'Rashtriya Sanskriti Mahotsav' near Tehri Lake in Uttarakhand.
The 9th edition of Rashtriya Sanskriti Mahotsav is a three-day long diversified cultural festival organised under the 'Ek Bharat Shrestha Bharat'. the series of event is scheduled to be held from 25th May to 27th May 2018.
The 9th Rashtriya Sanskriti Mahotsav festival was inaugurated by Chief Minister of Uttarakhand, Trivendra Singh Rawat.
The 9th Rashtriya Sanskriti Mahotsav festival will showcase several activities such as Water Sports, Fusion of Crafts & Art Forms, Cuisine Fest and Magnificent Cultural Performances etc.
The 9th Rashtriya Sanskriti Mahotsav aims to strengthen the spirit of Ek Bharat Shreshth Bharat's vision which will provide an opportunity to citizens especially youths to experience the true spirit of it.
Background
The Rashtriya Sanskriti Mahotsav (RSM) was first started by the Union Ministry of Culture in the year 2015, when the government of India decided to organize events to showcase the rich cultural heritage of India in all its rich and varied dimensions such as Handicrafts, Cuisine, Painting, Sculpture, Photography, Documentation and Performing Arts-Folk, Tribal, Classical and Contemporary- all in one place.
Ministry of Culture so far has organised 8 RSM's that includes 2 in Delhi, 2 in Karnataka, 1 each in Varanasi, Gujarat, Madhya Pradesh and RSM North East (NE).