Government unveiled Bhasha Sangam to introduce school students to 22 Indian languages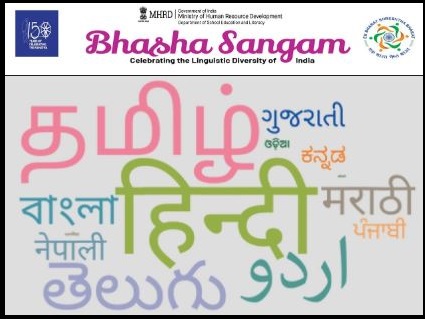 Government unveiled Bhasha Sangam to introduce school students to 22 Indian languages: Details, Aim, Significance, Highlights
The Government of India has unveiled a unique initiative named 'Bhasha Sangam' to introduce school students to 22 Indian languages.
This 'Bhasha Sangam'initiative', comes under 'Ek Bharat Shreshtha Bharat', program which was launched on 22nd November 2018, and will continue till the 21st of December.

The Bhasha Sangam initiative is a programme for schools and educational institutions to provide multilingual exposure to students in Indian languages. Another aim of Bhasha Sangam is to uplift linguistic tolerance and respect and promote national integration.
The Bhasha Sangam initiative also aims to create interest in different Indian languages and instill the curiosity to learn more.
Under the Bhasha Sangam, the students will now be familiarised with the other languages. They which are 22 languages listed in Schedule VIII of the Constitution but most students are familiar with only one or two languages.
These 22 languages include Hindi, Assamese, Bengali, Bodo, Dogri, Gujarati, Kannada, Kashmiri, Konkani, Maithili, Malayalam, Manipuri, Marathi, Nepali, Odia, Punjabi, Sanskrit, Santali, Sindhi, Tamil, Telugu and Urdu.