Updated By: LatestGKGS Desk
Mid Day Meal Scheme :Objectives and Salient Features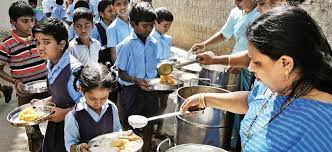 Mid Day Meal :Objectives and Salient Features
The main objectives of the MDM scheme are:
*Increasing the enrolment of the children belonging to disadvantaged sections in the school.
*retain children studying in classes 1-8.
*To provide nutritional support to the children of the elementary stage in drought-affected areas.
Salient Features of Mid Day Meal
*It is the world's largest school meal programme aimed to attain the goal of universalization of primary education implemented under the Ministry of Education the scheme.
*It is a centrally sponsored scheme and the cost is shared between the centre and the states. (Centre's share – 60 percent.)
*The scheme was first implemented in Tamil Nadu.
In 2001, MDMS became a cooked midday meal scheme and under this scheme each eligible child was provided with a prepared midday meal for a minimum
of 200 days:
*Energy intake – 300 calories
*Protein intake – 8 to 12 grams
Till 2002, the scheme was only designed for government, government-aided and local body schools.
But Later, children studying in Education Guarantee Scheme (EGS) and Alternative & Innovative Education (AIE) centres too were included under the scheme.
In 2004, MDMS was revised:
*The Central assistance was provided for cooking cost
*Transport subsidy (Max. of Rs 100 per quintal for special category states and Rs. 75 per quintal for other states.
* Monitoring and evaluation of the scheme.
*In 2006, the MDMS was again revised:
*The Cooking cost was enhanced to Rs 1.80 per child/school day for States in the North Eastern Region and Rs 1.50 per child/school day for other States and UTs.
*Energy intake was increased from 300 calories to 450 calories and protein intake was increased from 8-12 grams to 12 grams.
*In 2007, class 6-8 children studying in 3,479 Educationally Backwards Blocks (EBBs) were included in the scheme.
*SSA-supported madrasas and maktabs were included in this scheme in 2008
*For micronutrients (tablets and deworming medicines), each child is entitled to receive the amount provided for in the school health programme of the National Rural Health Mission.