Updated By: LatestGKGS Desk
ONE NATION ONE RATION CARD SCHEME (ONORCS) Details Launch, Objectives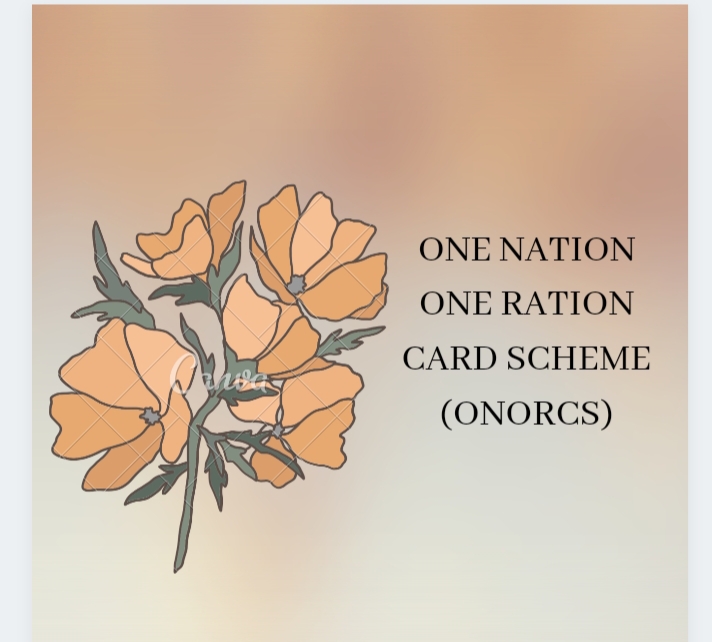 One Nation One Ration Card Scheme (ONORCS) : Launch,Objectives and Challenges
This scheme was implemented under the integrated management of PDS (IMPDS).
Under ONORCS four states were added in 2019 on a pilot basis and 12 other states were added on 1st January 2020.
Four states/UTs of Assam, Chattisgarh,Delhi & West Bengal are yet to brought under this scheme as per 1 June 2021.
The aim of the scheme is to ensure a hastle-free delivery of food grains to all migratory beneficiaries
Living anywhere in the country through the nationwide portability under National Food Security Act (NFSA).
One Nation One Ration Card :-
It is a national ration card.It enables migrant workers & their families to access their ration from
Any shop across the country & at fair prices. Aadhar Cards will also be added with the ration cards to enable the ration.
Main Objectives of One Nation One Ration Card Scheme
Its main objective is to access food grains to each beneficiary.
The Government will come up with a helpline number to assist beneficiaries.
The Scheme will benefit both women and other poorer sections of the society and in this way the ONORC will also help in demolishing hunger.
Challanges faced by the ONORCS
Challenges regarding the implementation of the program are as follows:
Exclusion Error :- The digitisation of this PDS & through Aadhar Linked Ration Cards has pushed an effort to reduce leakages.
There are many sections of society who still don't have aadhar cards and thereby they are deprived from food security.
Most of the other welfare schemes are based on historic-domicile based access & restricted welfare.