Kalraj Mishra becomes Governor of Himachal Pradesh and Acharya Devvrat for Gujarat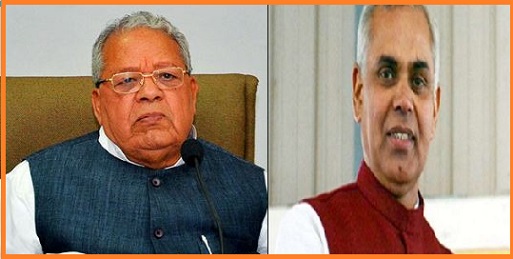 Kalraj Mishra becomes Governor of Himachal Pradesh and Acharya Devvrat for Gujarat
BJP leader Kalraj Mishra was appointed as Governor of Himachal Pradesh on July 15, 2019.
Kalraj Mishra replaced Acharya Devvrat who has been transferred and appointed as Governor of Gujarat.
Kalraj Mishra had resigned from the Narendra Modi-led government as Minister for Micro, Small and Medium Enterprises in 2017 after he crossed the age of 75. He had not contested last Lok Sabha elections.
In 2014 Kalraj Mishra became MP from Deoria constituency and later appointed as Cabinet Minister in the Modi government. Kalraj Mishra is former MP (independent charge) of Micro, Small and Medium Enterprises in the BJP-led NDA government of Prime Minister Narendra Modi. Being affiliated with the Bharatiya Janata Party (BJP), he was a member of Parliament from Deoria constituency in Uttar Pradesh from 2014 to 2019.
Acharya Devvrat (60 years) was appointed as Governor of Himachal Pradesh in the year 2015, he will replace retiring office holder OP Kohli. OP Kohli was appointed Governor of Gujarat, replaced Margaret Alva, on 16 July 2014. He has completed his five-year term on 15 July 2019.
Acharya Dev Vrat served previously as the principal of a Gurukul in Kurukshetra. He has served as a mentor, guardian, principal, and warden of Gurukul Kurukshetra since the 1980s. During his tenure as Governor of Himachal Pradesh, Acharya Dev Vrat has initiated steps for directly taking up social issues including drug abuse and intolerance.