India and Kazakhstan agreed to strengthen defence and military technical cooperation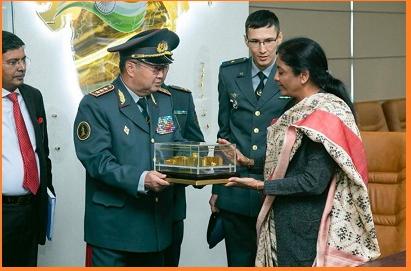 India and Kazakhstan agreed to strengthen defence and military-technical cooperation: Details, Aim, Highlights
Union Defence Minister Nirmala Sitharaman was on a three-day visit to Astana, Kazakhstan from 2nd October 2018. India and Kazakhstan agreed to boost defence and military-technical cooperation.
Nirmala Sitharaman met & held a discussion with Minister of Defence of the Republic of Kazakhstan Mr. Nurlan Yermekbayev,
India and Kazakhstan Defence Cooperation include military-technical cooperation, military education, and training, joint military exercises, bilateral exchange of visits and cadet youth exchange programs.
Over 200 Kazakh Defence Forces Personnel has undergone military training in India till date.
India and Kazakhstan successfully conducted a company level joint military exercise 'KAZIND-2018' in South Kazakhstan in September 2018.
India and Kazakhstan are Strategic Partners since 2009.
Kazakhstan
Capital: Astana
Largest City: Almaty
Currency: Tenge (KZT)
Official Languages: Kazakh & Russian
President: Nursultan Nazarbayev
Prime Minister: Bakhytzhan Sagintayev