India and Seychelles Signed Six MoUs: India Aids US $100 Million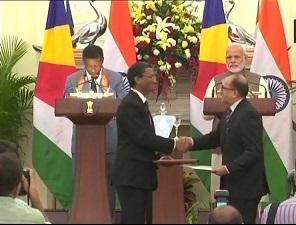 India and Seychelles Signed Six MoUs: India Aid 100 MM Dollars- Detail List
India and Seychelles have signed six Memoranda of Understanding (MoUs) including in the area of infrastructure development in Seychelles, cybersecurity and white-shipping arrangement.
The MoUs were signed between India-Seychelles after bilateral talks between Prime Minister Narendra Modi and visiting Seychelles President Danny Faure at Hyderabad House in New Delhi.
India has announced US $100-million credit to Seychelles for augmenting its defence capabilities. It also announced to hand over second Dornier aircraft to Seychelles before 29th June 2018 as promised by PM Modi during his visit there in 2015.
India and Seychelles agreements are:
MoU regarding Indian Grant Assistance for implementation of small development projects through local bodies, educational and vocational institutions.
Twinning Agreement on Establishment of Friendship and Cooperation between Panaji (Municipal Corporation), Goa (India) and Victoria City of Seychelles.
MoU in the area of Cyber Security.
Cultural Exchange Programme for the years 2018-2022.
Technical Agreement on Sharing White Shipping Information between Indian Navy and National Information Sharing and Coordination Center of Seychelles.
MoU between Foreign Service Institute (FSI) of Ministry of External Affairs of India and Department of Foreign Affairs of Seychelles.
India and Seychelles have also agreed to work together on a project to develop a naval base at Assumption Island.
Both countries share robust defence and security cooperation. Both countries have strategic convergence in dealing with maritime challenges.
Seychelles
Capital: Victoria
Currency: Rupee