Updated By: LatestGKGS Desk
Latest Daily Current Affairs 27th June 2018 GK GS Bulletins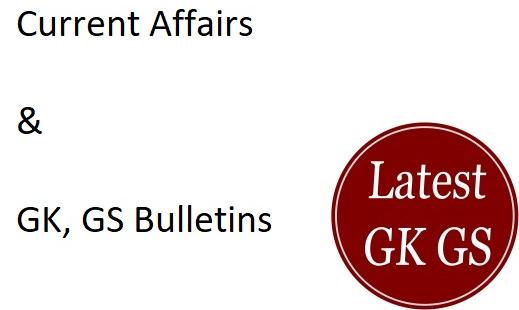 Latest Daily Current Affairs GK GS Bulletins
1. Union Minister for Women and Child Development, Maneka Sanjay Gandhi launched the report titled 'Women in Prisons' to unveil life of women in prison.
2. Odisha's Pallavi Durua Crowed As India's First Tribal Queen.
3. International Day against Drug Abuse and Illicit Trafficking Celebrated On 26th June 2018.
4. Google Doodle Celebrates the 145th Birthday Of Singer & Dancer Gauhar Jaan.
5. China Launched 'SPY Bird' Drone To Strengthen Its Surveillance Activities.
6. Rajasthan CM Vasundhara Raje Honored With Chief Minister Of Year-2018 Award.
7. RBI To Set Up Board of Management For Urban Co-operative Banks
8. Arijit Basu Appointed As New Managing Director Of SBI.
9. India and Seychelles Signed Six MoUss in several fields including education, cybersecurity, and cultural exchange.
10. According To McKinsey Global Report, India's Gender Inequality Is High In Politics & Workplaces.
11. Gujarat Government Launched Suryashakti Kisan Yojana.
12. Poetess and winner of Kerala Sahitiya Akademi award, B Sujatha Devi, has passed away recently at the age of 72 years.
13. World Bank has agreed to sanction ₹2,685 crore for the Tamil Nadu Health Systems Reforms Project (TNHSRP) that will focus on improving the overall qualityof healthcare in the State
14. S Balasubramanian has been appointed as the Chief Financial Officer (CFO) of Bharti Infratel.
15. Veteran Mountaineer Gautam Kanjilal has passed recently. He was 69 years old.
16. International Civil Aviation Organization (ICAO) has removed Nepal's aviation sector from the Significant Safety Concern (SSC) list.
17. Former Prime Minister of South Korea Kim Jong-Pil has passed away recently. He was 92 years old.
18. Asian Infrastructure Investment Bank will invest $200 million in India's National Investment and Infrastructure Fund.
19. India's Amit Kumar Saroha has won the Gold Medal in the Men's club throw F51 event at the World Para Athletics Grand Prix in Tunisia.
20. Sandeep Sejwal has won the gold medal in men's 50-meter breaststroke event at the Singapore National Swimming Championships.
21. Mercedes' British Driver Lewis Hamilton has won the French Grand Prix title.
22. Indian Archer Deepika Kumari has won a Gold medal in the Salt Lake World Cup in the USA.