India Ends Concessions to US on 30 Products Including Steel & Aluminium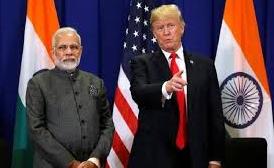 India Ends Concessions to the US on 30 Products Including Steel & Aluminium- Details, Impact, Background
India has now introduced a revised list of 30 items including motor cycle, certain iron and steel goods, boric acid and lentils to the World Trade Organisation (WTO) on which it proposed to raise customs duty by up to 50 percent.
As duties hiked by the United States on certain steel and aluminum products would have implications of about $241 million on India, the rise in tariffs proposed by New Delhi too would have an equal implication on America.
India reserves its right to further suspend substantially equivalent concessions and other obligations based on the trade impact resulting from the application of the measures of the US.
According to the report, US' decision to hike import duties will have an impact of about $241 million to $198.6 million on steel and $42.4 million on aluminum.
India exports only about 4 percent of its steel and 2 per cent of aluminium to the US. India is looking to hit back with tariffs amounting to the same.
Earlier in 2018, US President Donald Trump announced a 25percentt and 10 percent tariff on imported steel on aluminum respectively from all countries, except Canada and Mexico.
The US is the world's largest steel-consuming nation. Trump's announcement, in line with his America First policy, sparked fears of a trade war after countries began mulling imposing their own tariffs.