Updated By: LatestGKGS Desk
ISRO & BHEL Inks Agreement for Production of Space Grade Lithium-Ion Cells Details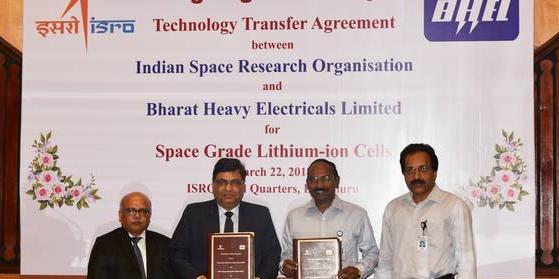 ISRO & BHEL Inks Agreement for Production of Space Grade Lithium-Ion Cells- Details, Purpose
Indian Space Research Organisation (ISRO) and Bharat Heavy Electricals Limited (BHEL) have signed a Technology Transfer Agreement (TTA) on 23rd March at ISRO's headquarters in Bengaluru.
The TTA contract signed with an aim to transfer technology for manufacturing space grade Lithium-Ion (Li-Ion) cells.
The TTA contract BHEL will produce space grade Li-Ion cells which can meet country's space program requirements. It can also be adopted to foster Li-Ion cell requirement for other national needs.
The ISRO will utilise these Li-Ion batteries as power sources for satellite and launch vehicle applications due to their high energy density, reliability and long cycle life.
ISRO's Vikram Sarabhai Space Centre (VSSC) at Thiruvananthapuram has successfully developed technology for the production of space grade Li-ion cell. It has also showcased performance of cell under various testing conditions and established its cycle life characteristics in accelerated mode.
These Li-Ion cells are currently being used for various satellite and launch vehicle applications.
Lithium-Ion Battery
The Lithium-Ion battery (Li-Ion cells) is a light weighted rechargeable battery that contains several cells.Each cell consists of cathode, anode and electrolyte, a separator between electrodes and current collectors.
The Li-Ion battery is nearly 100% efficient in both charging and discharging as compared to lead battery which has 70% efficiency.
The rechargeable lithium-ion battery has a life cycle of 5000 times or more compared to just 400-500 cycles in lead acid.