Updated By: LatestGKGS Desk
International human solidarity day 20th December: About, Details, History, Background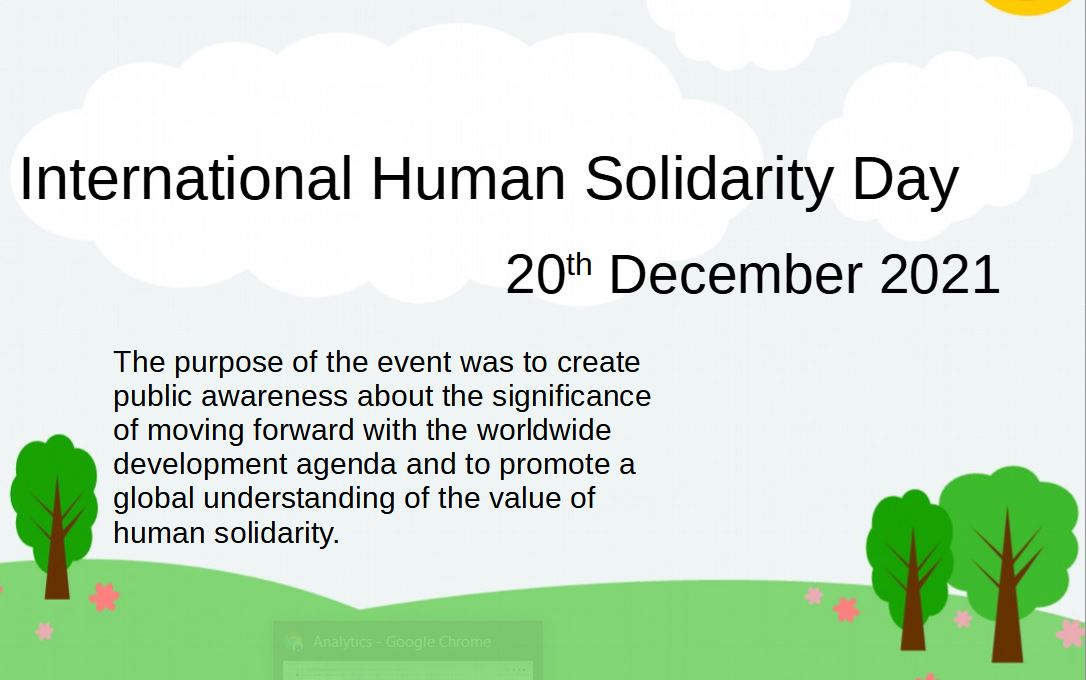 United Nations International human solidarity day 20th December 2021
On December 20, the United Nations and its member nations celebrate International Human Solidarity Day, which was established by the UN General Assembly during the 2005 World Summit. It was formed by Resolution 60/209 on December 22, 2005.
Governments are reminded of their commitments to international agreements on the importance of human solidarity as a means of combating poverty on International Human Solidarity Day. People are encouraged to discuss ways to build solidarity and come up with new strategies to alleviate poverty.
Among the activities that may be undertaken are the promotion of campaigns on problems such as:
The prohibition of land mines.
Providing health and drugs to individuals who are in need.
Relief attempts to assist persons who have been harmed by natural or man-made disasters.
Bringing universal education to fruition.
Poverty, corruption, and terrorism are all being combated.
Background of the Day
Solidarity refers to a group's members sharing common interests, goals, or sentiments. World leaders agreed in the Millennium Declaration that solidarity was an important value in international relations in the twenty-first century. In light of globalisation and rising inequality, the United Nations concluded that achieving its Millennium Development Goals would require strong international solidarity and cooperation. The United Nations was created on the principles of unity and harmony, based on the concept of collective security, which relies on the solidarity of its members to work together for world peace and security.
History of the day
The United Nations General Assembly declared December 20th to be International Solidarity Day on December 22, 2005. The purpose of the event was to create public awareness about the significance of moving forward with the worldwide development agenda and to promote a global understanding of the value of human solidarity.