Updated By: LatestGKGS Desk
8 September: International Literacy Day 2019 Theme, Details, Aim, Significance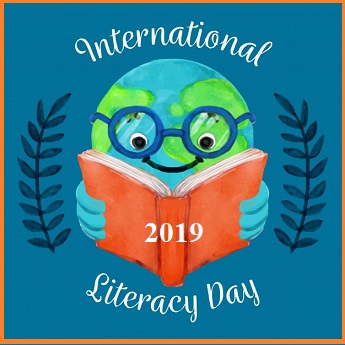 8 September: International Literacy Day 2019 Theme, Details, Aim, Significance
International Literacy Day is celebrated every year on 8th September around the world to raise people's awareness of and concern for literacy issues among child and adults across the world.
This year in 2019, UNESCO is celebrating the 53rd anniversary of International Literacy Day-2019 with the theme 'Literacy and Multilingualism'.
International Literacy Day (8th September) was declared by the United Nations Educational, Scientific and Cultural Organization (UNESCO) on 26th October 1966 at the t 14th session of UNESCO's General Conference.
International Literacy Day-2018 was celebrated for the first time in 1967. Its main aim is to highlight the importance of literacy to individuals, communities, and societies.
Literacy
Literacy is not only the way to get employment however, but it also encourages to know human rights so that everyone can get what they deserve.
With illiteracy, many people face humiliation every day. Moreover, they make their own life full of struggles. Hence, to make a better world and to make use of community resources for gaining information from local and school libraries, literacy is of utmost importance.
According to UNESCO, about 774 million adults lack minimum literacy skills. One in five adults is still not literate and two-thirds of them are women.
About 75 million children are out-of-school and many more attend irregularly or drop out. However, literacy is also a cause for celebration on the day because there are nearly four billion literate people in the world.