Updated By: LatestGKGS Desk
India and Russia to develop MBIR fast neutron reactor project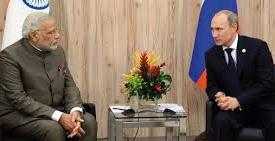 India and Russia to develop next generation nuclear reactor and participate in fast-reactor research project MBIR
The main aim of this project is to create new technological platform which is based on closed fuel cycle with fast neutron reactors.
MBIR project will also conduct reactor studies of sodium-cooled Generation 4 fast reactor to design reactor so that it can be used for nuclear supply power plants.
Fast neutron reactor will solve the ecological problem of reprocessing and provides more energy
Many other problems like safety, shortage of fuel, reprocessing, refabricating used nuclear fuel and radioactive waste are also solved.
Fast neutron reactor requires no moderator as of thermal reactors.
Three independent loops of MBIR helps in testing of different coolants like gas, lead, etc.
MBIR has been conducted by International Research Centre in Dimitrovgrad in Ulyanovsk.