Updated By: LatestGKGS Desk
Indian stealth frigate Tushil Launched in Russia on 28 October 2021 :About, Details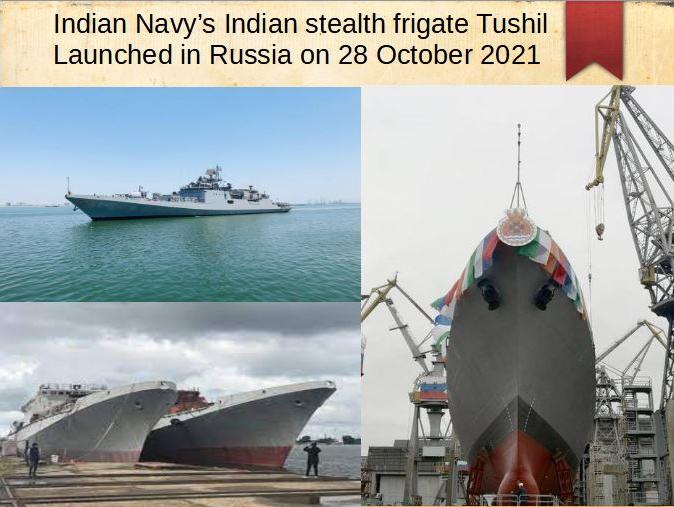 Indian stealth frigate Tushil Launched in Russia on 28 October 2021
Tushil, the first of two more Krivak or Talwar-class stealth frigates being built for the Indian Navy in Russia, was formally launched into the waters on Friday 27 October 2021, according to the Navy.
It's one of four follow-on frigates India ordered from Russia, two of which are being built in Russia and two of which are being built in India thanks to knowledge transfer.
The completion of the basic construction of a ship is marked by its launch from a dry dock into the ocean. When the ship is afloat, advanced construction and equipment will be completed.
In the presence of D. Bala Venkatesh Varma, Indian envoy in Russia, and other senior dignitaries, the seventh Indian Navy frigate of the P1135.6 class was launched on October 28 at Yantar Shipyard in Kaliningrad, Russia," the Navy said in a statement.
"Ms. Datla Vidya Varma officially named the ship 'Tushil' during the ceremony. Tushil is a Sanskrit term that means 'protector shield,' according to the website.
The first of the two ships is slated to arrive in India in mid-2023, according to The Hindu in August. Due to the COVID-19 epidemic, work was delayed for around eight months.
The two frigates' basic structures are complete at the Yantar shipyard in Russia. Six of these frigates, each weighing roughly 4,000 tonnes, are already in service with the Indian Navy.
According to the statement, the development of these ships is based on the Indian Navy's particular specifications to fulfill the full spectrum of naval combat in all three dimensions of air, surface, and subsurface.
The ships are suited to operate in littoral and blue waters, both as a single unit and as a consort in a naval task force, with a potent combination of state-of-the-art Indian and Russian guns and sensors, according to the Navy.
The ships are equipped with stealth technology, such as low radar signatures and low underwater noise signatures. They will be outfitted with Surface to Surface Missiles (SAMs), a sonar system, surface surveillance radar, communication suite, and an Anti-Submarine Warfare (ASW) system, as well as Russian SAMs and gun mounts, according to the Navy.
Indian technicians will visit the Yantar shipyard during the ongoing building of the two frigates to familiarise themselves with the particular equipment and construction as part of the technology transfer responsibilities