Modi Government Launches Swachh Survekshan 2020 and Swachh Nagar App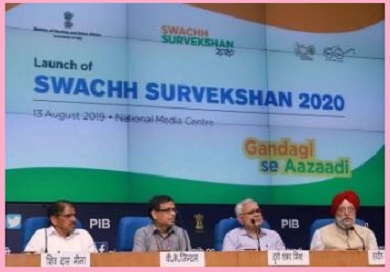 Modi Government Launches Swachh Survekshan 2020 and Swachh Nagar App: Details, Aim, Highlights
Ministry of Housing and Urban Affairs (MoHUA) launched the Swachh Survekshan 2020 (SS 2020), the fifth edition of the annual cleanliness survey.
SBM Water PLUS Protocol, Swachh Nagar App, Swachh Survekshan 2020 Toolkit, and AI-enabled mSBM App were also launched.
Earlier in 2019, Modi government has launched Swachh Survekshan League 2020 with the main aim to sustaining the on-ground performance of cities along with continuous monitoring of service level performance on cleanliness.
Swachh Survekshan 2020 Focus Areas
Collect segregate waste and maintain till processing site
Utilize capacity of wet processing facilities
Treat and re-use wastewater
Curtain solid waste based Air Pollution
Follow three principles – Reduce, Reuse and Recycle
The uplift social condition of informal Waste Pickers
Promote procurement through GeM
Assess Ganga Towns separately to accelerate action
Engage Technology-driven Monitoring
Swachh Nagar Mobile App
Swachh Nagar App features tracking of waste collection by ULBs through route and vehicle monitoring, notification to citizens, online collection of user fee for waste collection and an effective grievance redressal mechanism, will be the answer to several issues that hinder effective waste management such as lack of monitoring, collection of segregated waste, and tracking the movement of waste vehicles and waste pickers, amongst others.
AI-enabled mSBM App was also launched. National Informatics Centre (NIC) developed this app that helps detect the beneficiary face and toilet seat in the photo uploaded using Artificial Intelligence (AI) model at the backend.