Updated By: LatestGKGS Desk
20 August: World Mosquito Day 2019 Observed: Details, Aim, Significance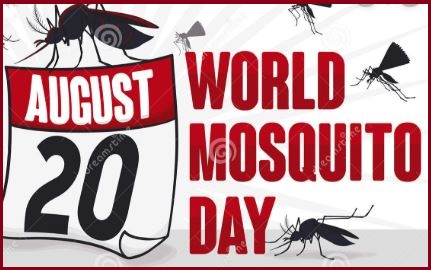 20 August: World Mosquito Day 2019 Observed: Details, Aim, Significance
World Mosquito Day is observed every year on 20 August to raise awareness about the diseases caused by the female mosquitoes (Anopheles).
World Mosquito Day is an honor of British doctor Sir Ronald Ross's groundbreaking discovery in 1897 that female Anopheles mosquitoes transmit malaria between humans.
World Mosquito Day is celebrated every year in London School of Hygiene & Tropical Medicine that includes events such as parties and exhibitions, a tradition dating back to as early as the 1930s.
Mosquito
A mosquito got its name from the Spanish word meaning "Little fly".
Mosquitoes spread diseases like malaria, West Nile virus, dengue, chikungunya, Zika among human beings.
Mosquitoes are the deadliest creatures found almost every part of the earth, mosquitoes have the ability to carry and spread diseases to humans causing millions of deaths every year.