Updated By: LatestGKGS Desk
PM Narendra Modi Campaign To Eliminate Tuberculosis (TB) from India by 2025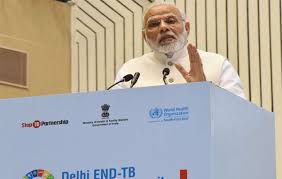 PM Narendra Modi Launched Campaign To Eliminate Tuberculosis (TB) from India by 2025- Details, Measures
Prime Minister Narendra Modi launched a campaign to eliminate Tuberculosis (TB) from India by 2025, five years ahead of the globally-set deadline of 2030 by World Health Organization (WHO).
PM Narendra Modi launched the TB-Free India Campaign, after inaugurating the Delhi End-TB Summit on 13th March 2018 at Vigyan Bhawan in New Delhi.
PM Narendra Modi informed that India has initiated a new multi-pronged approach and strategy to suppress TB from the country by the year 2025.
The TB-Free India Campaign main aim is to take activities of National Strategic Plan (NSP) for TB elimination forward in Mission mode. It will have to fund of over Rs 12,000 crore over the next 3 years.
Under the TB-Free India Campaign, NSP main objective is to ensure every TB patient has access to quality diagnosis, treatment, and support.
Under the TB-Free India Campaign, NSP will provide treatment to all patients by adopting the patient-centric approach and prevent the emergence of TB in easy receptive population groups and building efficient institutions and human resources to streamline the implementation process.
PM Narendra Modi also mentioned other special measures of India including Swachh Bharat Mission, the Ujjwala Yojana, Nutrition Mission and National Health Protection Scheme (NHPS) for medical insurance which will help the country to eliminate TB by 2025.