IWDRI -2018, Details, Purpose, Concludes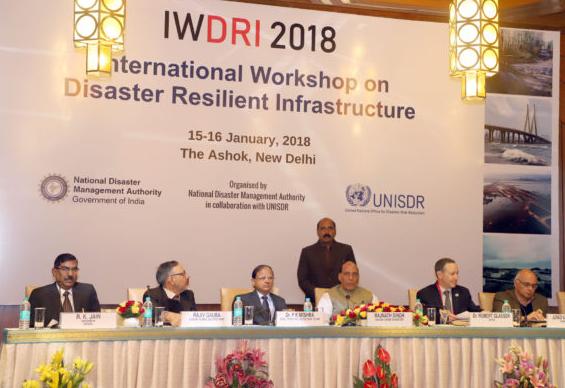 IWDRI -2018 workshop by NDMA, Details, Purpose, Concludes
Union Home Minister, Rajnath Singh inaugurated the International Workshop on Disaster Resilient Infrastructure (IWDRI) on15th January 2018, in New Delhi.
IWDRI-2018 was the two-day workshop conducted consecutively on 15th and 16th January 2018.
IWDRI-2018, was organised by the National Disaster Management Authority (NDMA) in collaboration with United Nations Office for Disaster Risk Reduction (UNISDR)
IWDRI-2018 comprised the global participation of experts from about 23 countries, representatives from multilateral development banks, the United Nations, academia and other stakeholders.
IWDRI-2018 commenced with the cross-country panel discussion followed by technical sessions on issues considering to Risk Management in key Infrastructure Sectors, specifically Energy, Transport, Telecommunications and Risk Assessment.
IWDRI-2018 was concluded to focus on global cooperation for developing Disaster Resilient Infrastructure. The workshop also served as a platform for mutual exchange of experiences, lessons and solutions in the area of Disaster Resilient Infrastructure.
MoS, Home Affairs of India, Kiren Rijiju delivered the final address and said: "Resilient infrastructure is important not only for the aggregate economic growth but also for ending poverty".