Updated By: LatestGKGS Desk
NSG Commandos To Witness New Transformation For Combating Terrorism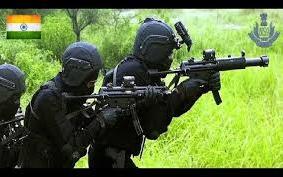 NSG Commandos To Witness New Transformation For Combating Terrorism
National Security Guard (NSG) is an Indian Special Forces Unit, often called as 'Black Cats' in accordance with their strong appearance & black badge uniform.
According to the recent report, Black Commandos will soon encounter new transformation. Moreover, NSG will be soon deployed on the country's border for combating terrorism activities.
Now, NSG's Black Commandos will be equipped with new security shield with best modern communication facilities.
NSG will be armed with modern Sub-Machine Guns (MP5) and German made Sniper Rifles (PSG1 A1).
NSG's Black Commandos will be equipped with a bullet-proof briefcase like a shield when open; will help to protect them from enemy's firing range.
NSG's Black Commandos will get new standard modern ear-piece for clear and immediate communication.
Background
National Security Guard (NSG) works under the shield of Ministry of Home Affairs (MHA).
NSG was established in the year 1984, during 'Operation Blue Star' and Assassination of Former Indian PM Indira Gandhi.
NSG is formed on the same methodology of the United Kingdom's Special Air Force (SAS)and Germany's Police Tactical Unit (GSG-9).
NSG was formed to counter terrorist activities with an aim to protect the country against internal criminal disturbances and VIP security.