Updated By: LatestGKGS Desk
Features of pencil portal And The various components of the pencil portal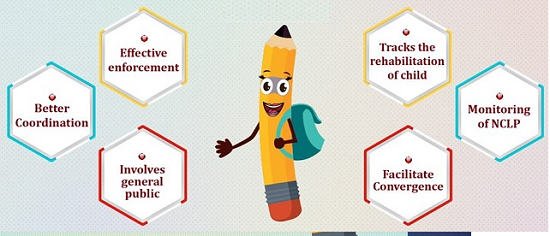 Features of pencil portal, District Nodal Officers (DNOs), And The various components of the pencil portal
The pencil portal is a platform to end child labor, which was started by the Union Home Ministry. Pencil portal means Effective Enforcement for no Child Labor.
It is an electronic portal, aimed at achieving the target of child labor-free society, to include central, state governments, district level administration, civil society, civil society, and common people.
One in every 10 children in India is involved in child labor and does not live normal lives during her childhood. Meaning his childhood is lost somewhere in the workload.
Therefore, in five years the government is planning to end child labor. One of the goals of the Sustainable Development Goal is to end child labor by 2025.
Features of pencil portal
The various components of the pencil portal are:
1. Child Tracking System
2. Complaint Chamber
3. State Government
4. National Child Labor Project and mutual cooperation
District Nodal Officers (DNOs) will be nominated by the district, which will file complaints related to child labor. Within 48 hours of receiving the complaint, first, they will examine the reality of the complaint and then use the rescue measures with the help of the police. Even still 7 states/union territories have appointed DNOs.