President Ram Nath Kovind Released Commemorative Coins on Nabakalebar Festival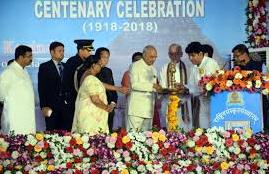 President Ram Nath Kovind Released Commemorative Coins on Nabakalebar Festival- Details, Significance, About
President Ram Nath Kovind has released commemorative coins in denominations of Rs 10 and Rs 1000 on the occasion of Nabakalebara festival on 18th March 2018 at centenary event held in Rashtriya Sanskrit Sansthan Puri, Odisha.
The released commemorative coins mark the Nabakalebara festival and Lord Jagannath, Balabhadra and Devi Subhadra which symbolises recreation of sibling deities.
Ram Nath Kovind addressing the event described the importance of Puri in Hindu religion. He termed Puri as one of the ancient 'Vidya Nagri' (Education Hub) of India, for its integration of knowledge and science.
Ram Nath Kovind also added that Puri has also its pilgrimage significance as it includes in Four 'Dhams' of Hinduism. He further said that Lord Jagannath temple is the centre for art and culture, the Lord's Rath Yatra has a significant place in the hearts of Indians.
Nabakalebara festival
Nabakalebara festival is an ancient ritual that is observed in the Shree Jagannath Temple at Puri, Odisha. It is usually observed in every 12 to 19 years based on the auspicious two months of 'Ashadha' in a year called as 'Purusottam' month as per the Hindu calendar.
Naba means 'New' and Kalebara means 'Body'. In this festival, the idols of Lord Jagannath, Balabhadra and Subhadra and Sudarshan are replaced by new idols as it is believed that Lord Shree Jagannath adores new body during Nabakalebara.