Updated By: LatestGKGS Desk
About Delhi Declaration on Renewable Energy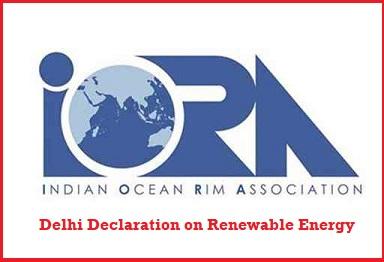 About Delhi Declaration on Renewable Energy: Details, Aim, Highlights
Delhi Declaration on Renewable Energy urges for collaboration among Indian Ocean Rim Association (IORA) member countries in meeting growing demand for renewable energy in Indian Ocean littorals and development of common renewable energy agenda for Indian Ocean region (IOR) and promote regional capacity building.
Delhi Declaration on Renewable Energy also urges for the promotion of technology development and transfer, strengthening of public-private partnerships (PPP) in renewable energy and collaboration among IORA member countries and member nations of International Solar Alliance (ISA).
IORA member countries also elucidate to collaborate with the International Renewable Energy Agency (IRENA).
IORA member countries will also collaborate with ISA member nations to exchange knowledge and share views and potential interests in renewable energy sector paved by MoU signed between IORA and ISA with focus on joint capacity-building programs, R&D activities in solar energy and exchange of best practices.
IORA member nations and IRENA also agreed to undertake the expansion of Global Renewable Energy Atlas, world's largest-ever joint renewable resource data project, coordinated by IRENA.
Latest Renewable Energy Updates