Updated By: LatestGKGS Desk
First Made In India Aircraft carrier, Vikrant, DRDO, About, Detail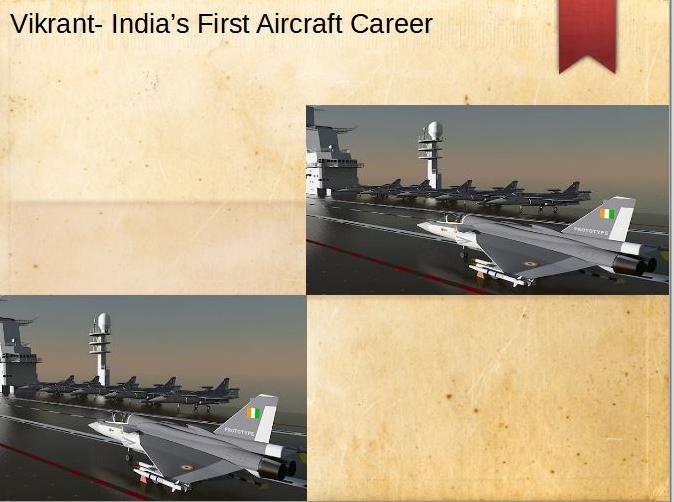 Vikrant, The First Made In India Aircraft carrier, Testing and Trials
The indigenous aircraft carrier Vikrant's maiden sea trials have gone very well and the second phase of trials is expected to begin at the end of October 2021, with the third phase scheduled for December 2021, according to a defense official.
Vikrant is expected to be delivered to the Navy in April and commissioned in August 2022, coinciding with the 75th anniversary of the country's independence.
Simultaneously, construction on the carrier's aviation complex, for which a Russian team is on the ground, is underway. The aviation testing will continue once the carrier is commissioned, and will be completed using the Navy's Mig-29K aircraft, according to the official.
Exceptionally positive outcomes by Vikrant aircraft carrier
Vikrant's performance, including the hull, main propulsion, power generation, and distribution, and auxiliary equipment, was evaluated during the inaugural sea trial in August 2021. The results were "very satisfactory," according to the official, who added that the engine "showed 100 percent performance" and that "certain difficulties that had arisen" were being rectified.
Vikrant, built by Cochin Shipyard Limited and designed by the Navy's Directorate of Naval Design, is 262 meters long, 62 meters wide at its widest point, and 59 meters tall including the superstructure, with more than 76 percent indigenous material. There are 14 decks, including five in the superstructure, and approximately 2,300 compartments for a crew of 1,700 personnel, including separate quarters for female officers.
In the Phase-II of the trials, complete habitat, including each of the over 2,300 compartments, would be thoroughly checked, the official said.
Carrier fighters with two engines
The Navy submitted a Request For Information (RFI) in 2017 to buy 57 twin-engine carrier fighters, and the responses are now being assessed. The Hindu had reported that the number would be reduced from 57 to 36. It has been learned that a final decision has yet to be made and that the number could be reduced even lower.
The Defence Research and Development Organisation (DRDO) and the Aeronautical Development Agency are designing and developing a new indigenous Twin Engine Carrier-Based Deck Fighter (TEBDF) (ADA).
Concurrently with sea trials of Vikrant, plans are afoot for the trials of the fighter jets in the fray for the tender. "Initially, trials will be done on the Shore Based Test Facility (SBTF) at Goa and then on the aircraft carrier," the official said. The aircraft likely to be tested are Boeing F/A-18 Super Hornet, Dassault Aviation's Rafale, and Saab Gripen-E.