GK Questions 5th September 2019 General Knowledge, Current Affairs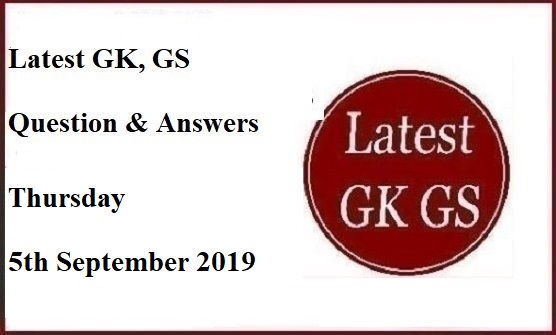 Daily GK Questions Thursday 5th September 2019 General Knowledge, Current Affairs
1. India and US which joint military exercise started in the US on 5 September?
Ans: Yudh Abhyas 2019
2. Government of India under UAPA Bill Law released a list of Individual Terrorists, what are the names?
Ans: Hafiz Saeed, Zakiur Rehman Lakhvi, Dawood Ibrahim and Masood Azhar
3. PM Modi has become the first Indian Prime Minister to visit which among the following Russian regions?
Ans: Vladivostok
4. Teachers' Day is celebrated annually to commemorate the birth anniversary of which former Indian President?
5. According to the EIU Global Liveability Index 2019, Delhi and Mumbai ranked at what places?
Ans: Delhi 118th and Mumbai 119th
6. Which cricketer toppled Virat Kohli to regain his top spot in the ICC Test Rankings?
Ans: Steve Smith
7. Which Indian cricketer jumped 40 places to be ranked at no. 30 in ICC Test Ranking 2019?
Ans: Hanuma Vihari
8. Which state of India has recently reported Congo Fever?
Ans: Rajasthan
9. Which country will host FIFA world cup 2022?
Ans: Qatar
10. Which of the following has been named as India's 'Best Swachh Iconic Place' recently?
Ans: Mata Vaishno Devi Shrine
11. Which e-commerce company recently announced to eliminate single-use plastic from its packaging by June 2020?
Ans: Amazon
12. When is the International Day of Charity observed every year?
Ans: 5th September