Uttrakhand Devbhumi: Char Dham,Panch prayag,Panch kedar,Rishikesh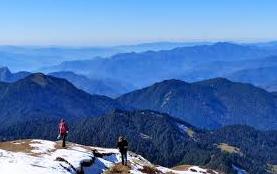 Uttarakhand, the land of Gods, beautiful place, famous temples and pilgrimage centres
Uttarakhand situated at the north region of Himalayas is considered to be the most beautiful place as it the land of Gods popularly known as Devbhumi.
This land is famous for its Char Dham yatra where people from different parts of India undertake the journey of four centres which includes Badrinath, Kedarnath, Gangotri and Yamunotri.
Rishikesh known as the Yoga Capital of the World
Every year this pilgrimage journey is begins in May and the foundation for it is Rishikesh.
Panch Kedar means five holy temples which are dedicated to Lord Shiva in the Garhwal Himalayan region in Uttrakhand.
These five holy temples are related to the five pandavas of Mahabharata and it is believed that after the visit of Panch Kedar it is mandatory to visit Badrinath as a final proof of the devotee.
Panch prayag are the five sacred rivers of flowing together in the Garhwal Himalayas.