Updated By: LatestGKGS Desk
Russia President Vladimir Putin Wins Presidential Election 2018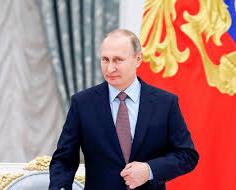 Russia President Vladimir Putin Russian Presidential Election 2018- Details, Ranking Tally
Russia President Vladimir Putin is all set for another six years in power after winning a record victory in 'Russian Presidential Election', held on 18th March 2018 in Moscow, Russia.
Russia President Vladimir Putin (age 65 years) was declared to win after final results released on 19th March 2018, morning. It showed he had won his fourth presidential term with 76.67 % of the votes, his highest score ever.
Vladimir Putin has been selected by Russian people at a stage when Russia's relations are not so good with western countries. In a hope to better life of Russians & counterweight to the west, Putin will now regain resurgent power till the year 2024.
Vladimir Putin addressed his thanks to Russian people and said "I am a member of your team" and also promised them that "We are bound for success."
Vladimir Putin, who will turn 71 in 2024, will be the politician to rule for the maximum years of time after Soviet ruler, Joseph Stalin.
Vladimir Putin first became President in the year 2000, attaining 53 % of votes in a presidential election. Later, 71 % of votes in 2004 and 63 % of votes in 2012.
Vladimir Putin has dominated all the other candidates in 2018 presidential elections which include the communist candidate, Pavel Grudinin, who came 2nd with 13.2 % of votes, and 3rd was the ultranationalist Vladimir Zhirinovsky with 6% of the votes.
About 107 million Russian people were eligible to cast ballots and turnout was 60% before polls closed on 18th March in Moscow.