Updated By: LatestGKGS Desk
Western Ghats Kavery (Cauvery) older than Ganga Himalayan rivers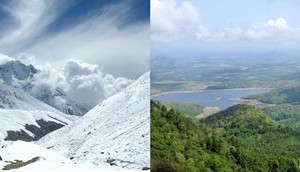 Kavery (Cauvery) and other western ghats rivers flowing from a longer period comparing to their Himalayan counter part rivers including Ganga, Yamuna, Indus, Bhrahmputra
According to gelogical sources, Ganga, Indus and Brahmputra rivers originate in the Himalayas. Himalayas themselves formed in 40-50 million years ago on the planet.
Rivers from Himalayas formed 2.5 Million years ago in Pleistocene Era.
Western Ghats history and Fluvial pattern of Kavery (Cauvery) river
Kavery or Cauvery originates from Western Ghatas. Western Ghats ghats formed during the breakup of supercontinents around 150 million years ago. Fluvial Pattern from a river (Water source) in western ghats is found to be 50 million years old.
This argument puta hallmark year gap between existence tof two rivers depending on their origination. Kavery might be flowing over a period of 50 million years comparing to Ganga 2.5 million years.
Latest Western Ghats Updates