21 August: World Senior Citizens Day 2019 Theme, Details, Aim, Significance, History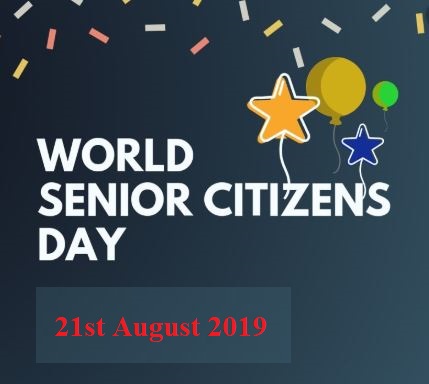 21 August: World Senior Citizens Day 2019 Theme, Details, Aim, Significance, History
World Senior Citizens Day is celebrated every year on 21 August across the world to raise awareness of the condition of elder people and support them through the process of senescence.
World Senior Citizens Day aims is observed to raise awareness about factors and issues affecting older people, such as deterioration with age and examine issues that affect their lives such as abuse of elderly people.
World Senior Citizens Day also recognizes and appreciates contributions that older people make to society. It calls for welfare of elder persons to enroll and appreciate their achievements and involvement in the society to get promoted from their ability and knowledge.
World Senior Citizens Day was officially established by the former president of United States Ronald Reagan after he had signed Proclamation on 19 August 1988, declaring August 21 as National Senior Citizens Day in the US.
Also, other countries later adopted the day to pay respect to the elderly community. Later United Nations General Assembly on 14th of December 1990 proclaimed to observe 21 August as World Senior Citizens Day.