Updated By: LatestGKGS Desk
20 October: World Statistics Day Celebrations Details, Aim, Significance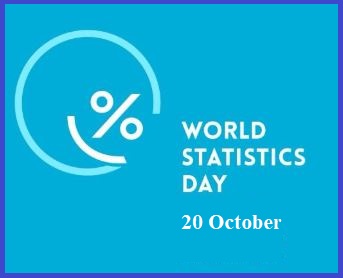 20 October: World Statistics Day Celebrations Details, Aim, Significance
World Statistics Day is celebrated once in every five years, on 20th October around the world.
World Statistics Day is to raise public awareness among people about the importance of statistics in daily life and in the process of planning and development.
World Statistics Day was passed by the United Nations under resolution 64/267.
World Statistics Day was first celebrated in the year 2010 and it was second time celebrated in the year 2015 with the theme "Better Data, Better Lives".
World Statistics Day observance witnessed out of the box success, with activities organized in more than 130 member states of the United States.
World Statistics Day will be next celebrated in the year 2020.
In India, National Statistics Day is observed on 29th June every year to commemorate the birth anniversary of India's eminent statistician, Late Prof Prasanta Chandra Mahalanobis, and his contributions in the fields of statistics and economic planning.
Statistics
Statistics is a way of collecting, analyzing, interpreting, presenting, and organizing data.
While applying statistics to larger groups of data gives a general overview of issues, including scientific, industrial, or social problems.