AAP first-ever party to hold School-Aspatal Rally in Delhi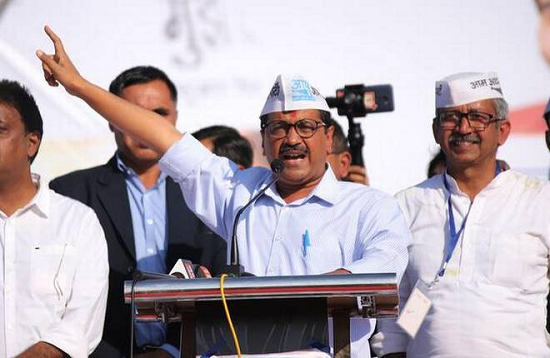 AAP first-ever party to hold School-Aspatal Rally And Hunkar Rally, Parivartan Rally, Vikas Rally
Delhi Chief Minister Arvind Kejriwal on Saturday said that Aam Aadmi Party was the first political party in the history of independent India to hold a public meeting on the twin issues of schools and hospitals, adding that no outfit had ever raised these issues from a political platform over the past seven decades.
Addressing the gathering at Gaushala Ground here, Mr. Kejriwal said the political parties hold "Hunkar rally", "Parivartan Rally" and "Vikas Rally", but AAP was the first party to hold "School-Hospital Rally", adding that the people sitting in the sun for several hours showed that they wanted to change in Haryana, having tried and been duped by all other political parties.
He said the private schools in Haryana were charging an exorbitant fee and similar was the situation in Delhi when he took over as Chief Minister, but he did not allow these institutions to increase the fee over the past three years.
"We conducted the audit of the private schools in Delhi and made them return the overcharged fee for the past ten years. The families were pleasantly surprised to receive the cheques a decade after their wards had passed out," said Mr. Kejriwal, adding that his party would improve the condition of the schools in Haryana as well in the event of coming to power.