Arthur Ashkin, Gerard Mourou & Donna Strickland Accorded Nobel Prize in Physics 2018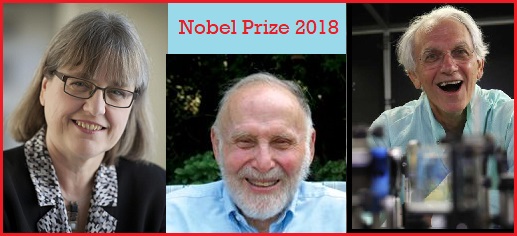 Arthur Ashkin, Gerard Mourou & Donna Strickland Accorded Nobel Prize in Physics-2018: Details, Achievements, Highlights
The Nobel Prize for Physics-2018 was awarded to Arthur Ashkin as well as jointly to Gerard Mourou and Donna Strickland on 2nd October 2018, for their groundbreaking discoveries in 'laser physics'.
Arthur Ashkin, the American who developed "optical tweezers," became the oldest Nobel Prize laureate at age 96 years.
Donna Strickland, of the University of Waterloo in Canada, became only the third woman to win the physics Nobel and the first in 55 years.
Frenchman Gerard Mourou of the Ecole Polytechnique and the University of Michigan developed a way to generate high-intensity, ultra-short bursts of laser light.
The winners will be awarded nine million kronor (£770,000) which has been decided by the Royal Swedish Academy of Sciences.
Nobel Prize considered a pride to regard people who have made great advances and discoveries in different fields. Nobel Prize in Physiology or Medicine, Physics, and Chemistry are conferred upon people who have excelled in the field of science.