Nikki Haley resigned from the post of US ambassador to United Nations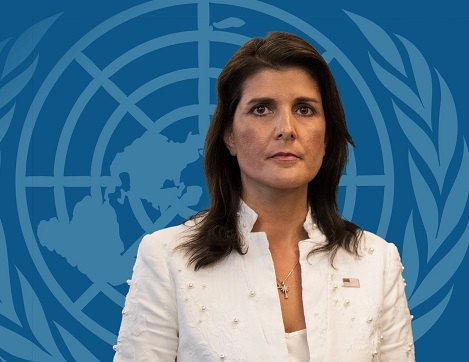 Indian Origin US Ambassador in United Nations Nikki Haley resigned
US Ambassador to the United Nations (UN) Nikki Haley resigned on 09 October 2018. According to the American media, President Donald Trump has accepted it.
After resigning, Nikki will remain in the United Nations for a month as temporary ambassador. Nikki has also removed all his responsibilities as a UN ambassador on his Twitter account.
Following the resignation of Haley, the statement of President Donald Trump has also been released, in which Trump has said that Nikki Haley did great work.
Nikki Haley was born in Bamberg, South Carolina, USA, on January 20, 1972, in an Indian Sikh family.
His initial name was Nimratya Nikki Randhawa. Her parents, Raj Kaur Randhawa and Ajit Singh Randhawa are immigrants from Amritsar district of India. she is graduates from Orenzburg Preparatory School, Inc. and Accounting graduate (BS) of Clemson University.
Initially, she worked in a waste management and recycling company, FCR Corporation. Prior to his appointment in this company, he contributed to his mother's business company Exotica International, which is a large clothing firm in 1994.
Nikki Haley was named Treasurer of the National Association of Women's Business Honors in 2003 and President in 2004.