Nikki Haley profile, governorship, awards, achievements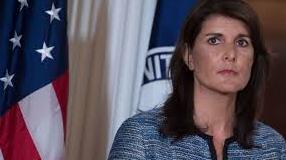 US Ambassador in UN Nimrata Nikki Haley: professional life, and governorship details
Nimrata Nikki Haley (January 20, 1972) is the 29th United States Ambassador in the United Nations appointed by President Donal Trump on November 22, 2016.
Nikki Haley was the 116th governor of the South Carolina from 2011 to 2017 and first female and Indian-American to serve in this office.
Awards and honours, autobiography-
Nikki Haley's tenure as Ambassador has been noted for its high degree of visibility, unusual for an Ambassador to the United Nations.
Nikki Haley has been awarded for Honorary Doctorate by University of South Carolina (2015) and Clemson University (2018). She has been awarded 'First lady's Visionary Award', 'Global Vision Award' and named among 'The 100 Most Influential People' by the Time magazine.
Haley published an autobiography, 'Can't is not an Option: My American Story' in 2012.