GK Question 11th Oct 2018 Current Affairs, General Knowledge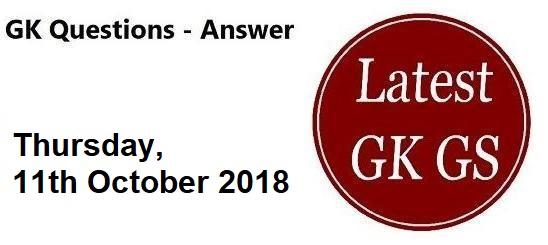 Daily GK Question Thursday, 11th October 2018 Current Affairs, General Knowledge
1. Which company was recently awarded the International Social Security Association (ISSA) Good Practice Award?
Ans:- ESIC
2. Who recently resigned from the US Ambassador to the United Nations (UN)?
Ans:- Nikki Haley
3. According to the recent report of the Intergovernmental Panel on Climate Change (IPCC), how much will the world temperature rise by 2030?
Ans:- 1.5 Degree
4. Recently 7 people died due to the accident due to a derailment of the train coach near Rae Bareli?
Ans:- New Farakka Express
5. What is the name of the mobile health application launched by the Indian Air Force recently?
Ans:- Med-watch
6. According to the report released by the Ministry of Road Transport, how many people in India are killed every day in road accidents?
Ans:- 17
7. In a recent poll conducted by a global body, it has been reported that Coca-Cola and Nestle are the most polluting companies?
Ans:- Greenpeace
8. Young Indian Olympian, which Indian player won the silver medal in judo in the 44 kg category of girls in 2018?
Ans:- Tababi Devi
9. Who has been appointed the Chief of the Pakistani intelligence agency ISI recently?
Ans:- General Asim Munir
10. US President Donald Trump has expressed concern over the disappearance of a Saudi Arabian senior journalist?
Ans:- Jamal Khashoggi