Updated By: LatestGKGS Desk
NASI SCOPUS Young Scientist Awards-2018 awarded to winners in New Delhi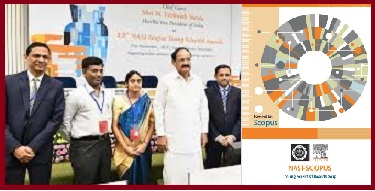 NASI SCOPUS Young Scientist Awards-2018 awarded to winners in New Delhi: Details, Significance, Winner List
National Academy of Sciences India (NASI) 12th SCOPUS Young Scientist Awards 2018 were awarded to winners. It was presented by India's Vice President M Venkaiah Naidu in New Delhi.
This year (2018) five multi-disciplinary categories in awards were introduced. The categories are agriculture, plant sciences and rural development, women in science, environmentally sound sustainable development, biomedical research and healthcare and innovation in engineering and physical sciences.
These categories aligned with national missions of Make in India, Digital India, Healthy India, and Clean India. The prize includes citation, trophy, and Rs. 75,000. The five winners were selected from a pool of about 800 candidates
SCOPUS Young Scientist Awards-2018 Winners List
1.Agriculture, Plant Sciences and Rural Development: Jitender Giri, National Institute of Plant Genome Research, New Delhi.
2. Biomedical Research and Healthcare: Maddika Subba Reddy, Group Leader, and Staff Scientist- V, CDFD, Hyderabad.
3. Environmentally Sound Sustainable Development: Vimal Chandra Srivastava, Indian Institute of Technology-Roorkee, Roorkee.
4. Innovation in Engineering and Physical Sciences: Ajay S. Karakoti, Associate Professor, Ahmedabad University, Ahmedabad.
SCOPUS Young Scientist Awards Women in Science: Zhumur Ghosh, Bose Institute, Kolkata.
About Scopus Young Scientist Awards
SCOPUS Young Scientist Awards was first launched by Amsterdam-based global publisher Elsevier in 2006. It is part of Elsevier's global initiative to support early career researchers in their quest to advance frontiers of science across a broad range of disciplines.
In 2009, India officially adopted program within its scientific community through Elsevier's collaboration with the National Academy of Sciences, India (NASI).
The Indian version of this award honors outstanding young researchers in the country who are building their careers in academic research, helping them gain recognition for their work.