Updated By: LatestGKGS Desk
Impact of Bank Of Baroda, Dena Bank, Vijaya Bank Merger for Indian Banking Sector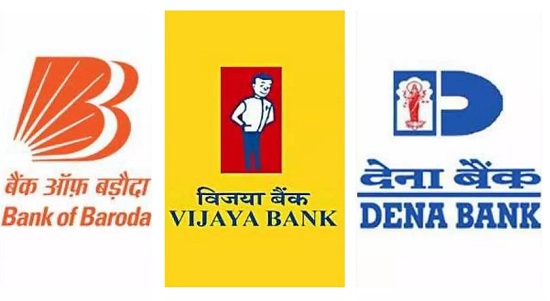 Bank Of Baroda, Dena Bank And, Vijaya Bank Merger Benefits to Indian Banking Sector and Non-Performing Assets (NPA)
The government has announced the merger of Dena Bank, Vijaya Bank and Bank of Baroda on September 17, 2018. To strengthen the banking system of the country by the central government, it has been decided to unite three government banks together.
After the financial review meeting chaired by Finance Minister Arun Jaitley, the information given to the media was told that the government will continue to provide capital support to the bank formed after the merger. It is worth mentioning that during the presenting of this year's budget, the government had introduced a consolidation of banks.
Benefits from the merger of banks
The new bank created by the merger will be the third largest bank in the country.
It will be a strong competitive bank on the economic scale.
In this, the networks of the three banks will become one, the cost will be reduced on deposits and the consolidation of the subsidiaries.
This will increase the number of customers, market access and operational skills. Plus, customers will be able to offer more products and better services.
After the merger, the interests of the employees of the three banks will be preserved.
The brand equity of banks will be safe. Three banks will be brought to the Financial CBS platform. The capital will be given to the new bank.